Books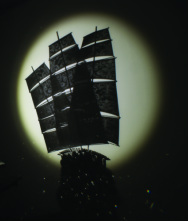 Pavitra Wickramasinghe: Book of Light and Shadows
(Montreal:
FoFA Gallery
, 2013)
Essay-Poem for Artist Exhibition Catalogue + Book Design
Pavitra Wickramasinghe was the winner of the
Claudine and Stephen Bronfman Fellowship in Contemporary Art 2011
. This publication is part of the resulting exhibition
Time Travel
at the FoFA Gallery in 2013. As a collaboration between Pavitra and myself, the essay-poem and book design resulted from studio visits and many long conversations about the nature of time travel (especially as put forth by physicist Ronald L. Mallett), memory, migration, and cinema.
"The
Book of Light and Shadows
is a traditional title used for the notebooks maintained by witches. Each sorcerer is said to keep a book of notations, incantations, materials and experiences from which to draw their magic. In this collected form it gathers power over time and serves as reference for both its owner, and others that might stumble across it. While Pavitra Wickramasinghe is not suggesting herself a witch, her deeply poetic work does conjure that which is not in fact there. The catalogue serves as a site of research and reflection for the artist, and we are invited within. Taien Ng-Chan, a PhD in Humanities candidate at Concordia University, has designed the book and contributed a responsive poem that helps to guide us through the evocative images and productive past of Wickramasinghe."
- jake moore
FoFA Gallery
---
---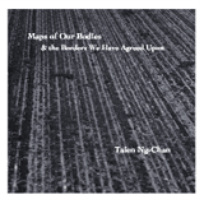 Maps of Our Bodies & the Borders We Have Agreed Upon
(Montreal: Cumulus Press 2005; acquired by Conundrum Press in 2008).
Photos + Book Design + Prose Poems
accompanied by a 13 song/6 video CD-ROM called
Roadmaps
(in collaboration with musician Scott W. Gray)
See Roadmaps
(from back cover)
Maps of Our Bodies
draws on themes of travel, location/dislocation, and that old workhorse, love. These poems and prose poems are a series of maps and meditations on the act of traversing space, both physically and emotionally; together, they sketch out a narrative arc about the course of a relationship, from its intense and sleepless beginnings to the negotiations of boundaries and space, to separation over long distances and a solitary road trip across the huge expanse of land that is Canada.
The accompanying CD,
Roadmaps
, is a word/music collaboration between writer Taien Ng-Chan and musician Scott W. Gray of
The Sally Fields
. These thirteen songs explore a range of musical styles from traditional pop guitar and percussion to technological soundscape. Enhancing the CD are six videos, featuring a contribution by cartoonist/animator
Joe Ollmann
.
"Taien Ng-Chan's first solo book/CD is as perfect in its own way as the buzzing, starlit clarity that comes over you in the early morning hours when you've been driving all night down a long Canadian highway. "
- Corey Frost, Fresh Tracks
"Beginning in a stuffy apartment, Taien Ng-Chan's book of poems soon bursts onto the open landscape like a flock of birds swooping out of the bushes. With the help of musician Scott W. Gray and cartoonist Joe Ollmann on the accompanying multimedia CD, Ng-Chan hypnotically roars eastward across Canada on a solo road trip. She perfectly captures the feeling of leaving everything you know but not being ready to arrive at a new place.
"
- Pike Wright, Shameless Magazine
---
---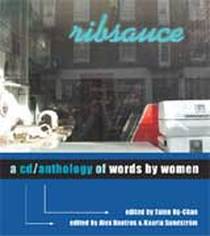 ribsauce: a CD/anthology of words by women
(Montréal:
Véhicule Press
&
Wired on Words
, 2001)
Editor and Contributor + Photos + Book Design
ribsauce
is a unique compilation of literature and sound recordings, featuring some of Canada's best women writers and performance artists. Presented in collaboration with
Wired on Words
, one of Canada's premier spoken word recording labels, this combination of book and CD reveals the ways in which language and sound are manipulated and muscled into place by women who push the boundaries of genre and form.
"Editor Taien Ng-Chan has done an impressive job of selecting some of the finest writers around, regardless of gender...Almost every page in the book is a revelation, and I can't recommend it highly enough; suffice it to say that this is a collection that will be treasured by many."
- Montreal Hour
"More than simply a feminist project, Ribsauce is an exploration of the region where sound, meaning and performance intersect. As these women demonstrate, literature is moving beyond poets at podiums and novel-reading in armchairs."
- Montreal Gazette
"A few simple elements make this anthology quite effective beyond a collection of fresh, young voices. First is the neo-feminist iconoclasm of a title like 'ribsauce' with its play upon American culture and biblical origins. Second is the inclusion of literal, rather than merely literary, voices in the form of a 16-track CD of stunning spoken word performances. This means that Ribsauce manages to entertain, while defying expectations."
- Digital Journal
---
---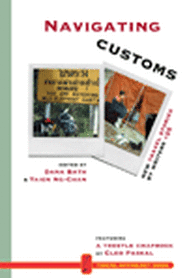 Navigating Customs : Book 3 of Tendril Anthology Series.
(Montréal: Cumulus Press, 2007)

New travel stories by twelve writers under 25
edited by Dana Bath & Taien Ng-Chan
featuring a Trestle Chapbook travel story by Cleo Paskal

These young authors explore a wide range of travel and genre: from an autobiographical tale about chasing news stories in Nicaragua, to short fiction about a young woman who has run away from her home in Gimli, Manitoba, to a long poem about Great Barrier Island in the South Pacific. Even if we've been to the places described, we haven't been there as these writers have. We haven't gone deaf in Guyana in the same way, nor questioned visiting Ground Zero in the same way, though our unease with ourselves there may be similar. And even if we've been to Locon, France, we didn't meet the same people, though we might wish we had. The writing here is fresh, unique, and takes us on journeys that are unlike any others.

"The writing is fresh and brave. Worldly yet introspective and idealistic, the authors are not afraid to admit their own struggles."
- Misha Warbanski, The Link

"Navigating Customs isn't your business-as-usual travel anthology. It's got a couple of tricks up its sleeve, including the fact that all the contributors are under the age of 25. While this could come off as gimmicky, all of the writers showcased in the anthology happen to be genuinely thoughtful, creative people with an interesting variety of stories to share."

- Laura Roberts, blackheart magazine

---
---
Essays, Stories & Other Writings (selected)

Essays/Book Chapters
:
"Strata-walking the Detroit River Border," in
Intermedialities
34. (upcoming
2019
)
"Locating the Critically Creative Quotidian" in
What is our Role: Artists in Academia and the Post-knowledge Economy,
edited by Jaclyn Meloche.
Toronto: YYZ Books, 2018.
http://www.yyzbooks.com/sample-product/now-available-what-is-our-role-artists-in-academia-and-the-post-knowledge-economy-edited-by-jaclyn-meloche-ph-d/
"Towards the Detour: Commuting as Mobile Making" in
Wi: Journal of Mobile Culture
11.1(2017).
wi.mobilities.ca/towards-the-detour-commuting-as-mobile-making/
"Detouring the Commute (the art and practice of everyday travel)."
Archée revue d'art en ligne : arts médiatiques & cyberculture
. Fall 2016.
http://archee.qc.ca/ar.php?page=article&no=516
"Detouring the Map." In
Engaging Affects/Thinking Feelings: Social, Political and Artistic Practices,
edited by Susan Driver, Kara Stone and Melanie Patenaude, 62-78. Newcastle upon Tyne: Cambridge Scholars Publishing, 2016.
"Machinic Assemblages" essay accompanying the artist exhibition
Proximities: Nahed Mansour, Lee Nutbean and Giles Whitaker
at the Hamilton Artists Inc., July 18th-August 13th, 2016.
http://www.theinc.ca/exhibitions/proximities/
"Mapping Out Patience: Cinema, Cartography, and W.G. Sebald" in Humanities
4.4 (2015): 554-568. doi:
10.3390/h4040554
"Performing City Transit" in
Mobility and Locative Media: Mobile Technology in Hybrid Spaces
. Adriana de Souza e Silva and Mimi Sheller, editors, 115-131. New York: Routledge, 2015.
"Acadie Fence" in
Objects in Context: Theorizing Material Culture.
Stephanie Anderson and Cierra Webster, editors. London, Ontario: Lulu, 2013.
"Urban Transits" essay, commissioned for the
Institut de recherche en histoire de l'architecture
(IRHA)'s
Ephemeral City
project, 2011.
Articles:
Movie Mythos
: a regular column about cinema and pop culture in
Matrix Magazine
. 2006 to 2012.
Special Theme Issues edited for
Matrix Magazine
: "Travel Documents"; "Ten Things at Once"; "Lost and Found"; "The Narrative Eye/I" (various dates).
Interview with Pulitzer Prize-winning author Alice Walker in
Ascent Magazine
, Summer 2007.
Interview with Governor-General's Award-winning poet Stephanie Bolster in
Matrix Magazine
(collected in
The Matrix Interviews
, DC Books 2001).
Radio:
Urban Spaces
(Radio Documentaries) – Co–Producer/Host.
Three episodes on Writer/Musician collaborations for CBC Radio One, aired June/Oct. 2003
Love Cliché; Familiar Strangers; Freight Train Rhapsody
(Radio Plays) – Writer.
Produced by Bill Lane and CBC Radio, 2000-2002
Creative
Writing:
"Bad Poetry" in the anthology
Henry Chow and Other Stories
(Vancouver: Tradewind Books, 2010). 11 pages.
"Something or Nothing" in the anthology
Geeks, Misfits & Outlaws
(Zoe Whittall, editor. Toronto: McGilligan Books, 2003). 7 pages.
"The Sound of Dishes in the Sink" in the anthology
Certain Things About My Mother
(Susan Musgrave, editor. Toronto: Annick Press, 2003). 18 pages.
"Write Me Sometime" first anthologized in
eye wuz here
(Shannon Cooley, editor. Vancouver: Douglas & McIntyre, 1996). 8 pages. Included in the Ontario Grade 12 curriculum (textbook from Prentice Hall).
"Things for the Dead."
The Capilano Review
, (N. Vancouver) Winter 1998
(Nominated for a Western Magazine Award, 1998).10 pages.
"Why men have nipples..." and "Dover's white cliffs" in
The Moosehead Anthology #6: Prose Poems and Sudden Fictions
(Montreal),1997. 2 pages.
"Shun–Wai" first anthologized in
Out of Place
, (Ven Begamudre and Judith Krause, editors. Regina: Coteau Books, 1991). It also appears in textbooks from Prentice Hall (1994) and Harcourt Brace (1995). 3 pages.